OFFICE HOURS & CALENDAR
Ms. Reichlin has office hours Tuesday – Thursday afternoons and Fridays, late morning to late afternoon.  All therapy appointments begin at ten minutes after the hour or half-hour to provide Ms. Reichlin a little time between sessions.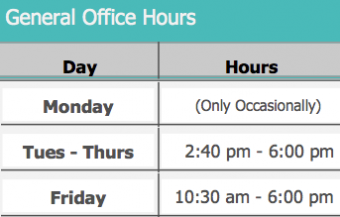 New clients please click here to inquire about or request an initial appointment.
SEE MS. REICHLIN'S CALENDAR OPENINGS
_______________________________________________________________________________

FEES
Therapists traditionally charge by the amount of time spent with clients or patients, rather than the number of people in the room.  Ms. Reichlin generally offers two therapy lengths: 50 and 80 minute sessions. The fees are as follows:
• Initial Intake Session for both Couples & Individuals
Ms. Reichlin's first session is always 80 minutes.  The fee for this session for both couples and individuals is $240, (based upon her hourly rate of $160.)
• Couples Therapy
Years of experience working with couples have shown that the depth of discussion needed to make significant change in a relationship is often difficult to achieve in the standard 50-minute therapist hour. Thus, most couples continue with the longer, 80 minute session, making the on-going fee $240.  There are various ways to lower this cost, including scheduling every-other week sessions, coming in for only an hour, (not possible in crises situations & not recommended in the early stages of therapy), &/or negotiating a reduced fee with Ms. Reichlin.
• Individual Therapy
Individuals may choose a standard 50-minute therapy session, making the fee $160.  Those who wish may opt to continue with longer, 80 minute sessions, in which case the fee becomes $240. As with couple sessions, there are various ways to reduce this cost.  Ask Ms. Reichlin for details.
• 

Payment
Payment is asked for at the end of each session.  Checks, cash and bank generated email payments are accepted.  (Credit cards are accepted only for the Imago Workshop.)
FEE ADJUSTMENTS
• Insurance
Ms. Reichlin does not accept insurance, however, policies that reimburse to out-of-network providers should reimburse you for a portion of your sessions with her.  
• Reduced Fee
Since Ms. Reichlin does not accept insurance, she is willing to reduce the fee in certain situations.  Please feel free to ask her about this option.
Click here to contact Ms. Reichlin about an initial appointment.
Click here for a listing of Houston agencies that may accept insurance.