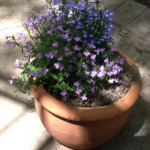 Welcome and congratulations on your decision to improve your life or relationship in some important way! This page contains information for new clients to insure that your new journey will begin with as seamless and productive a first step as possible.
1) Directions:  Ms. Reichlin's office is located at 4500 Bissonnet, corner of Bissonnet & Newcastle. Click here for a map.  Parking under the building is all reserved so you'll need to find an open-air spot.  (Wise to bring an umbrella if rain is predicted.)
Once you have entered the building, you will see it has only one elevator. Take this (or the stairs) to the 3rd floor.  Turn right as you exit the elevator and follow the hall to Suite 335. Once there, look for the New Client Intake Form(s) on the glass topped coffee table – it (or they) will be on a reddish, plastic clipboard.  
We do not have a receptionist, so just have a seat – Ms. Reichlin will come out to get you.  (Note:  if ever it should happen that you wait more than 5 minutes, please knock on Ms.Reichlin's door.)
2) Practice Policies:  Practice policies are shared here.  Please take a moment to read them over as they contain important information regarding missed appointments, ways to protect your private information when communicating with Ms. Reichlin, etc. 
3) Ways to Speed Your Progress: Ideas for those who would lilke to get started working on a relationship… now!
4) Couples Counseling: What to Expect  Those coming in specifically for couples counseling will want to read this page as it will give you an idea of what to expect in your first several sessions of joint couples therapy.